We wish you and yours a safe and Happy Thanksgiving
Board Notes
We would like to thank everyone who attended this year's Annual Membership Meeting and to those who voted online for the Board candidates. We are excited to introduce our 2020-2022 Board of Directors; Vice President Philip Prince, Treasurer Sarah Gass, At-Large Socials Dave McDonald , At-Large Tennis Ladies Representative Joni Smith and At-Large Pool/Grounds Mark Wilson! Below is a recap of this year's meeting.
2019 Annual Membership Meeting
Agenda
• Approval of 2018 Annual Meeting Minutes
• Approval of 2019 Annual Meeting Agenda
• Opening Remarks and Welcome – Ed Riesmeyer
• Introductions: Board and Staff
• Vote on 2020-2022 Board of Directors
• Bylaw Changes
• Finance Reports – Philip Prince
• Social Events – Dave McDonald, Kelli Green
• Pool Management Update – Mark Wilson
• Tennis Highlights – Mindy Merchant, Mike Waleski
• Questions/Feedback
2018 Annual Meeting Minutes
November 12, 2018
Good Shephard Presbyterian Church
• Board Members present:
Todd Leahy, President Barry Reeves, Marketing
Ed Riesmeyer, Vice President Dave McDonald, Socials
Philip Prince, Treasurer Chris Hunt, Socials
Carrie Dilsworth, Secretary Mike Waleski, Tennis
Mindy Merchant, Tennis Mark Wilson, Pool
• Guests Present:
Phyllis Smith, Club Manager; Allison Nelson, Accounting,Bob Stone, past President and approximately 6 members.
2018 Annual Meeting Minutes (cont'd)
November 12, 2018Good Shepherd Presbyterian Church

• Voting results: Todd Leahy, President; Leigh Howell, Secretary; Barry Reeves,At-large marketing; Kelli Green Fay, At-large-socials; Mike Waleski, At-large men's tennis.

• Question: How do we know if each family has one vote? Each family has one email address.
Finance Committee
• Philip presented a Financial Report: 2019 Budget, Expenses, 5 Year Results Comparison and 2018 Actual compared to 2018 Budget.
• Income is going up faster than expenses.
• We are able to put away $20K every year.
• Question: How many on wait list? 21
Capital Improvements:
• We have taken members feedback and are working on improvements to our club. 200K will be spent on renovations which will include a new entry and bathrooms. Old entrance will become lifeguard area.
• Suggestion to move bike area so children don't have to cross the street. Board will look into options.
• We have paid down debt and put money away for capital expenditure.
• 2018 Annual Meeting Minutes (cont'd)
Discussion:
• Slide needs repair. Ed knows someone who will repair. Stairs will also be redone. Repairing is a more economical way than having to replace since we are using the money for renovations.
• Signage will be moved on pool deck for better visibility.
• Phase 2 Pool Pavilion Area. Send another survey to get membership feedback, especially concerning cost.
• Question: Can we get recycling containers? We have looked into this and its expensive. Bees would also be a problem.
• Meeting adjourned at 6:36 pm.
• Next meeting: TBD
Social Update: 2019 Events
• 50th Anniversary Parking Lot Party
• Fourth of July/ Memorial Day/Labor Day Party
• Kids Field Day Events
• Stand Up Comedy Night
• Grills & Guitars
• Summer's End Party
• Fall fest
• Yoga on the Courts
• Muffins with Mom
• Music/Food Truck/Fire Pits Fall Social
• 2020 Events:
• St. Patrick's Day Party
• Windyrush night at the Checkers, Knights, Pineville Icehouse and PWX Wrestling
• Anders Ruff Workshop
• Stand Up Comedy Night
• Grills & Guitars
• Yoga/Pilates/Boot Camp offerings
• Football Watch Parties
• Chili Cook-off
• Artisan Pop Up Event
• And more!!!
Pool Management Update
2019 marks the end of our relationship with Swim Club Management. In 2020, we will manage pool operations ourselves.
• Projected savings of 25-30%
• Eliminates the markup on pool supplies
• Allows us the flexibility for scheduling
• Our expectations will be met
• Staff will be accountable by communicating directly with WRCC
Tennis Highlights
John Trimp is now our head pro and has been running a very active clinic schedule for the Ladies QC team and also the adult beginner program.
Heidi Witzel is our junior teaching pro. Her summer camps and her weekly clinics have been extremely popular and well attended
Our club fielded a wide variety of league teams this past year, including Queen City and USTA.
Congratulations to our Ladies QC Team for winning both of their divisions (Weekday & Saturday) this past Spring and to our Men's QC Saturday A Team for winning their division this Fall.
TENNIS SOCIALS: Friday Fun Nights
MEN'S NIGHT – Monday Nights
LADIES NIGHT – Thursday Nights
BALL MACHINE – $20 per family annually
Bylaw Change
Bold – add/change
ARTICLE V OFFICERS Section I ~ The officers of the corporation shall be a President, Vice President, Secretary, and Treasurer. The officers shall be elected for a term of two years or until their successors are elected and qualified. The member running for President needs to have served on the current board or as a past board member. The exception to this rule will be if no one on the current or past board is interested in serving as the President. The persons receiving the majority of the votes cast shall be duly elected officers and take their positions immediately upon their election.
2020-2022 Board Elections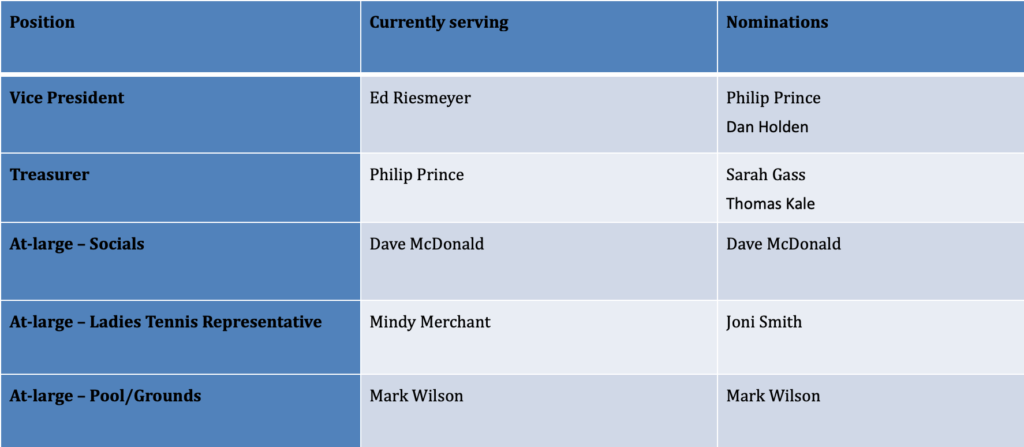 These board positions are NOT up for election this year based on the by-laws:
President Todd Leahy
Secretary Leigh Howell
At-large – Marketi Mark Wilson
At-large – Socials Barry Reeves
At-large – Men's Tennis Mike Waleski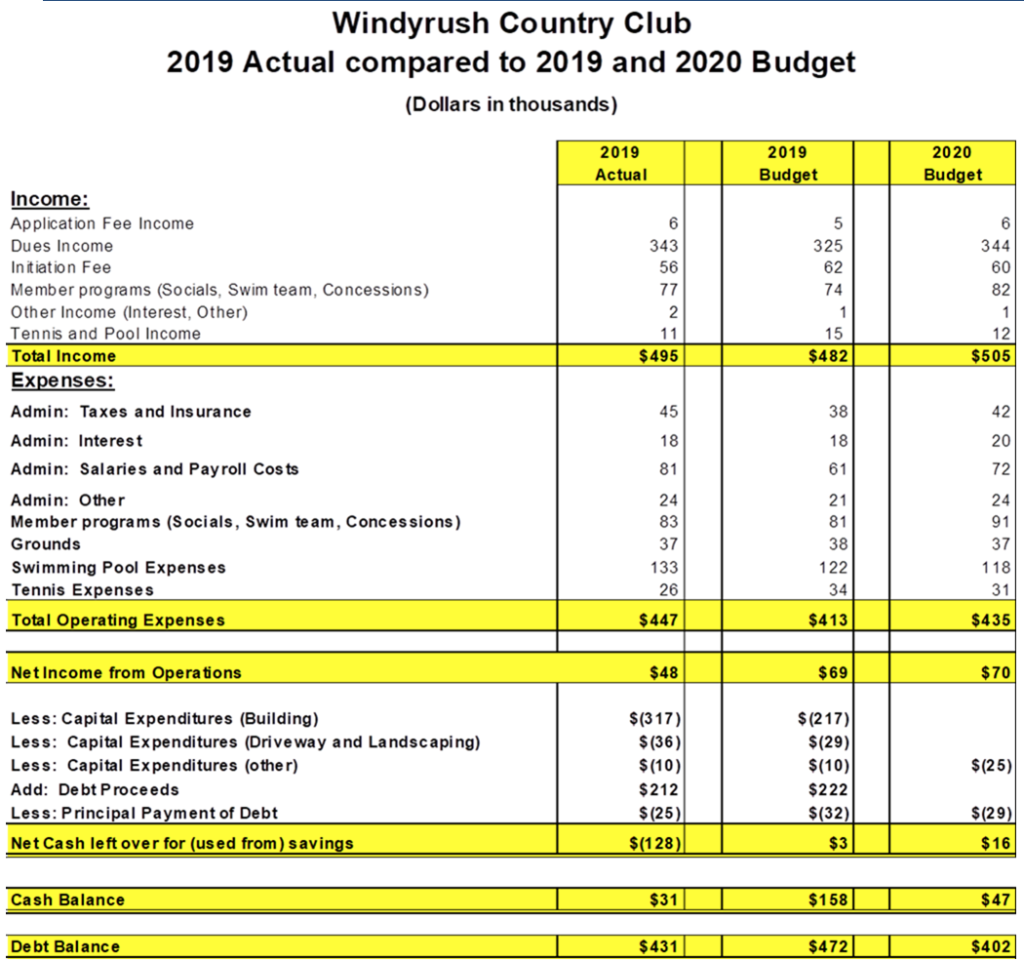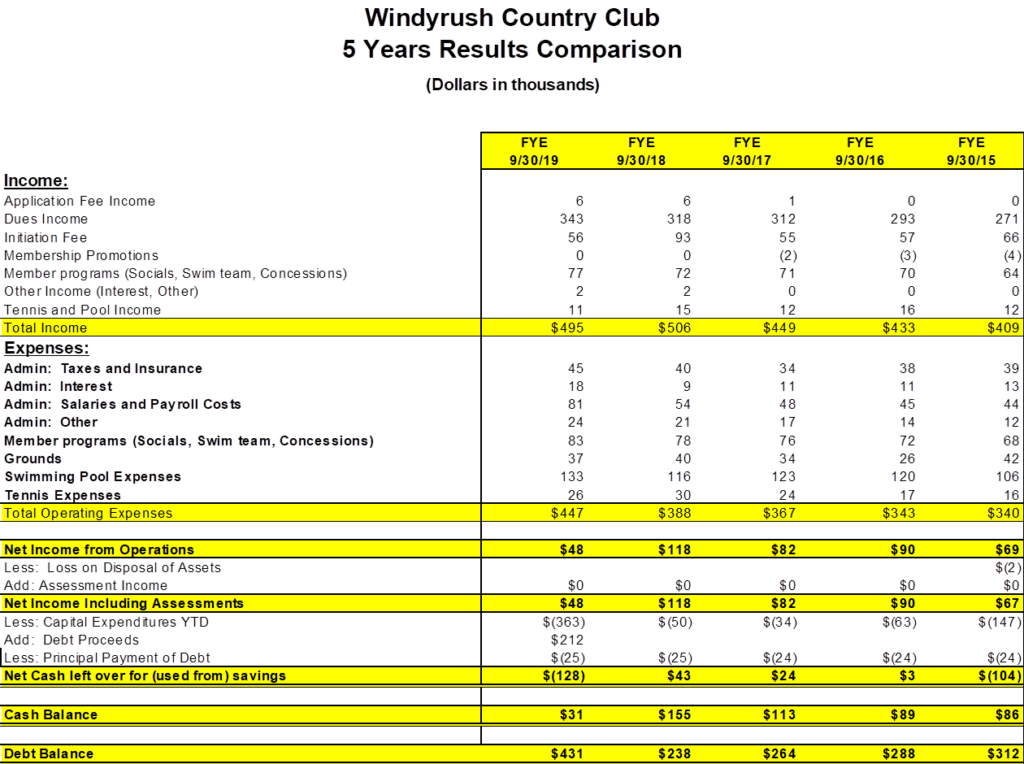 ---
Club Notes
Yearly renewal invoices have been emailed. Membership dues for 2020 are $795.00 and payable by March 1, 2020. If you pay your membership by January 1, 2020 you will receive a $30.00 discount. Payments made after March 1, 2020 will incur a $50.00 late fee. If memberships are not renewed by March 15, 2020 they will be automatically terminated. Due to our current waiting list, we have a strict deadline. You may pay your membership via the PayPal link Early Dues Payment or if you prefer to pay by check please mail your payment to Windyrush 6441 Windyrush Road 28226.
Senior Dues
We offer a special incentive if you are age 65 and older and have been a current member of Windyrush for 15 plus years. You are eligible to pay 50% of the current yearly dues. Contact the office if you qualify for a senior membership. PayPal link Senior Dues.
Tennis Membership Invoices
Membership dues for 2020 are $550.00 and payable by March 1, 2020. If you pay your membership fee by January 1, 2020 you will receive a $20.00 discount. You may pay with a credit card by clicking on the PayPal link Tennis Early Dues Payment or you may mail a check to Windyrush.
Not renewing? Did not receive an invoice? Please contact Phyllis Smith at office@windyrush.com