We are very excited to see everyone this pool season. We will officially open the pool Saturday, May 23! Governor Roy Cooper reported that North Carolina will move into Safer At Home Phase 2 of lifting COVID-19 restrictions on Friday, May 22 at 5 pm. After two weeks in Phase 1, the state's overall key indicators remain stable but the continued increases in daily case counts signal a need to take a more modest step forward in Phase 2 than originally envisioned. Certain businesses will be open at limited capacity with other requirements and recommendations including pools at 50% capacity with social distancing and cleaning requirements. As we navigate Phase 2, we will have some procedures in place to ensure the safety of our Members and staff.

We will send weekly updates as we learn more about the guidelines set by the state and county. Our 50% pool capacity is 300 including staff. At 300 person capacity, the Board does not believe going to "shifts" will be necessary, although the Board reserves the right to implement sign-up "shifts" in the future. If we do reach capacity, we may ask Members who have been at the pool most of the day to yield to new arrivals. It is extremely important that all Members follow the below guidelines set by the Board, in accordance with state recommendations.

We know some of these may be inconvenient, but we also know that these guidelines can help us get through the coming weeks with hopes of updating our procedures and open to full operation capacity soon. We thank you for your patience and understanding at the beginning of our season.

Pool
No guests currently.
Members and staff temperatures will be taken at check-in. If temperature is 100 degrees or higher will not be able to enter the pool that day.
Members are required to check in at the check-in window.
Members and staff are required to wash hands with hand sanitizer before entry to the pool area.
Members are encouraged to bring cleaning products to wipe down chairs and tables.
Children under the age of 12 MUST be accompanied by an adult.
6-foot social distancing-the NC guideline states "Public pools and spas are required to: ensure sufficient social distancing with at least 6-foot separation between family units."
All pool toys/noodles/floats/kickboards will need to remain at home.
Basketball, volleyball, and Gaga Ball will be closed.
The slide will be temporarily closed.
The grill will be temporarily closed for Member use.
Furniture will be at 50% and will be arranged to comply with the 6 ft. social distancing guidelines, you are encouraged to bring a towel or chair for the pool deck.
Staff will be sanitizing prior to opening, throughout the day and at closing.
Playground currently closed.
Guest Fees
Please remember our fees if you bring a guest. Guest Fees are $5.00 per guest. Holiday Guest Fees are $10.00 per person. Guests must be accompanied by a member for the duration of their stay.  Adult guests may visit a maximum of 10 vists per pool season with a member. Please see pool rules for more information.
Pool Rules
Smoking is prohibited on Windyrush property. This includes all types of smoking devices.
Absolutely NO GLASS on Windyrush property. Glass of any type is prohibited on the pool deck, this includes glass inside of coolers or pool bags.
Additional rules for everyone's safety and enjoyment are in this document.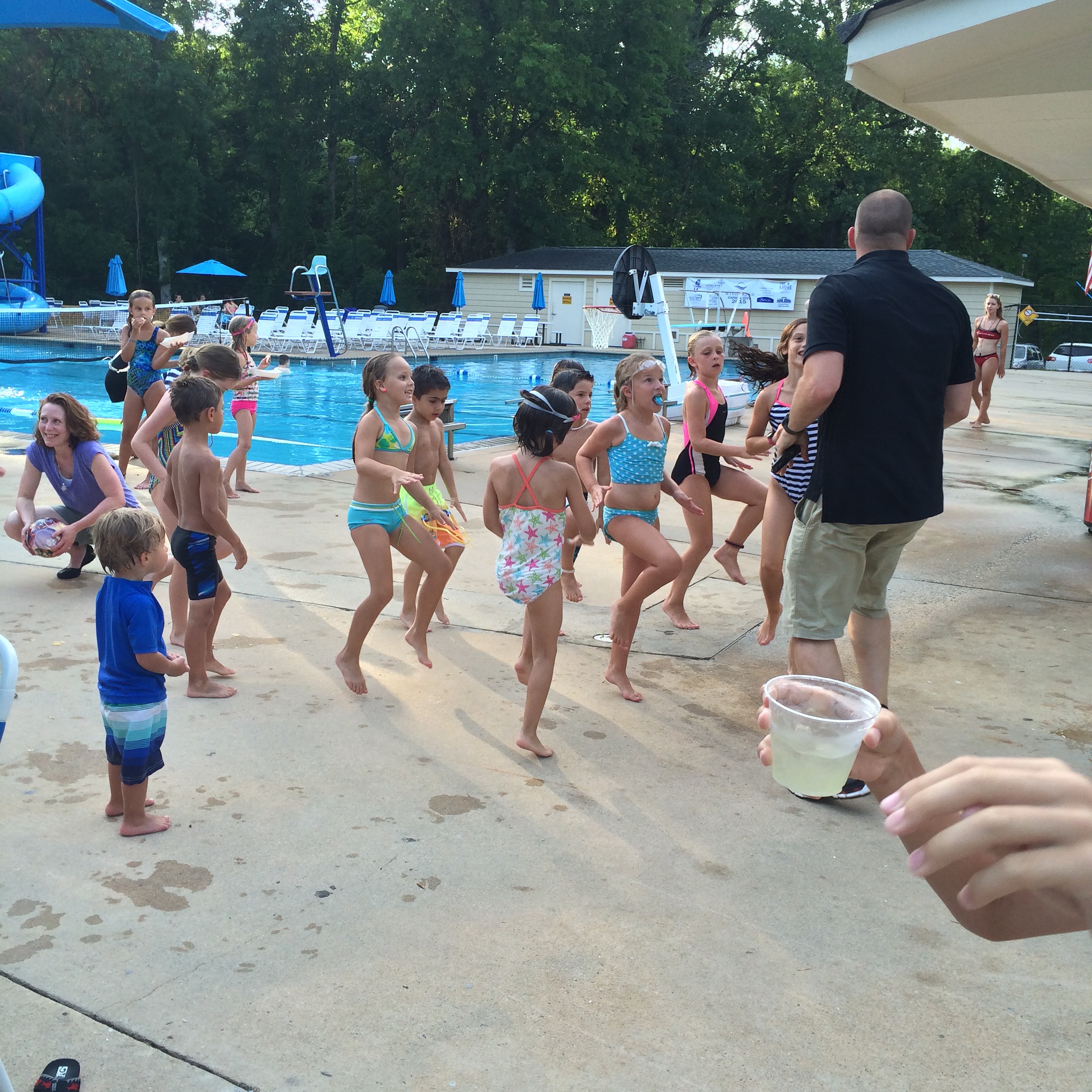 Pool Parties
Windyrush Parties are $75.00 for 15 attendees. If you have more than 15 the fee is $5.00 per person. Parties include two reserved tables and chairs under the tent. Parties need to be requested at least 7 days in advance along with advanced payment. Parties are based on a first come first serve basis. Windyrush will allow two parties to take place at the same time except for Friday evening and Sundays when one is allowed. If you are planning something special at your party, you will need to have approval from the Windyrush Board of Directors. No outside entertainment will be allowed. Pool form requests are available at the pool house or you may print one from the link below. If you have any questions about reserving your space please contact office@windyrush.com or call 704-542-9645.
Pool Parties!
If you have questions about pool parties or would like to reserve a pool party time please email office@windyrush.com.
Masters' Swim
Every Monday, Wednesday, and Friday 6:00am-8:00am beginning in June.
Masters Swim is adult lap swim. You may come anytime between 6am and 8am, there isn't a fee for members. Guests are $5.00 per day or Guests may purchase a season Masters Swim pass for $100.00. Guests must be accompanied by a Member. For Masters Swim Guest Passes please email office@windyrush.com.